Whenever I paint, regardless of how careful I am, handles of my brushes always somehow end up in paint. From there, paint easily transfers to my hands, clothes, hair and, the worst part, to my painting. I was in desperate need of a brush rest and intended to buy one. Then I thought: Why would I not try making it myself? It seemed simple enough.
I decided to use polymer clay for this purpose. It is easily shaped, it can be baked in regular kitchen oven and remains firm after baking.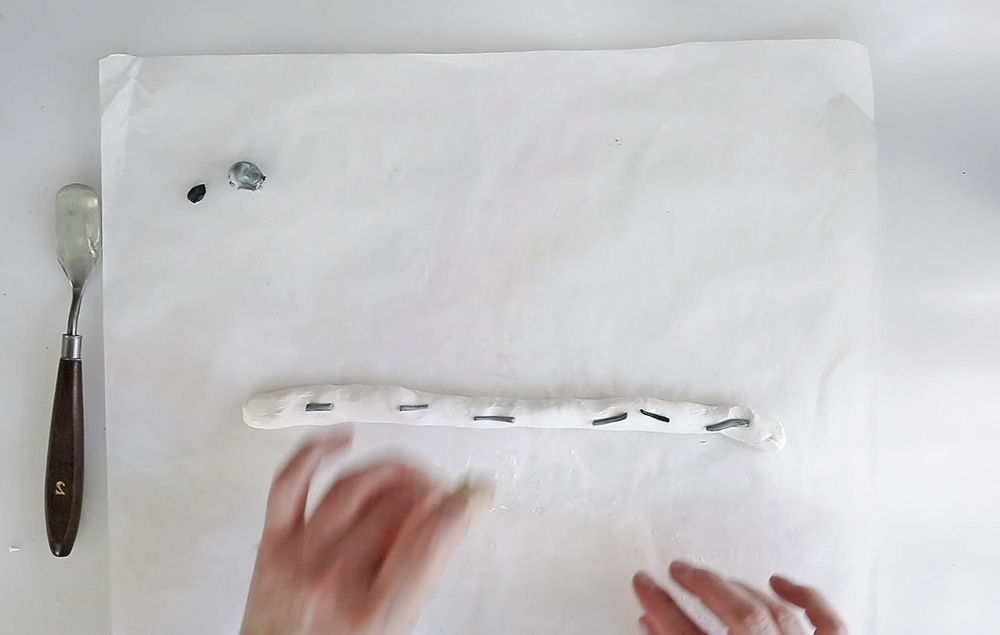 Instead of painting the finished product, I mixed a little bit of black and gray clay into the white one to get marbled effect. After baking, I sealed it with a craft varnish to protect it and to give it some sheen.
ART SUPPLIES used in this video:
FIMO Polymer Clay – white and black
Art Potch Varnish and Glue – Kreul
Royal & Langnickel – RSET-9160 Glaze Wash Taklon Variety Brush
ABOUT FILMING THIS VIDEO
This was a first video I filmed on my balcony. Every summer I spend time on an Adriatic island. This year, partly because of lockdown and partly because of my specific family situation, I remained home. Because of this reason I fixed up the balcony.
I was after tropical vibe where everything is lush, yet calm. Nature decided to meet my requirements and created a jungle atmosphere. The temperature was about 30 C (86 F), humidity 90% and mosquitoes were all over the place. We had three thunderstorms during the day of shooting, so that it took one whole day to shoot 10 minutes long video. Each time I needed to take my filming gear inside. I also needed to move succulent planters under the roof so they can stay dry and safe. After the shower whole set needed to be recreated. As soon as filming started, there was thunder again…
But it was still exciting and I love the way the video turned out. Of course, there is a lot of room to improve. I hope it will get better with time.